Twiztid/House Of Krazees/Samhein Witch Killaz History

---
---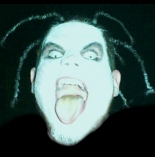 Name: James Spaniolo
Birthday: November 5th, 1975
Height: 6'4"
Weight: 230 lbs
Eye Color: Green
Hair Color: Brown
Race: Caucasian
Aliases: Jamie Madrox, Lil' Shank, Mr. Bones, Multiple Man, Batman
More Info: Jamie is a master of rhymes, his rhyming ability is up to par with some of the best MCs of all time. He is also a great vocalists, ranging in the abilities of singing, rapping, and voice changing (he has many different voices!)

---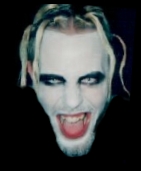 Name: Paul Methric
Birthday: July 14th, 1973
Height: 6'2"
Weight: 200 lbs
Eye Color: Brown
Hair Color: Brown
Race: Caucasian
Aliases: Monoxide Child, Foe Foe, Hektik, Mono, Monoxboogie, White Trash With Tattoos, Lil' Poot, Chainsmoker
More Info: Much like Jamie, Monoxide Child has much love for the juggalos that listen to and represent Twiztid and the hatchet in general. He enjoys hanging out with juggalos after gatherings and smoking cigarettes with them.

---

To be able to understand who Twiztid is, you must first learn about their past group called "House Of Krazees". Jamie Madrox and Monoxide Child were once part of a local horrorcore group based out Detroit, Michigan. The group consisted of three high school friends who loved horror movies: James Spaniolo, Paul Methric, and Brian Jones. The three decided to form a rap group together in the year 1992. James took up the alias of "Big J", Paul used the moniker "E.X.P." and Brian chose "Raps On Contact" or "R.O.C.". They needed an idea for a group name, and that's when it hit them. One night, they were watching horror films together and they stumbled across the film by the title of "House of Crazies", and the three decided it would fit the trio perfectly. So, together the three hit the studio and began to work on their debut album, "Home Sweet Home" which was released in 1993.

The trio pushed the album to the best of their ability, and it gained the group enough attention that they decided to produce a follow up album. So, in 1994, the trio returned to the studio to work on their latest album, "Homebound". Things had changed amongst the members of the group upon the release of this album however. "Big J" was now going by the name "Mr. Bones" and "E.X.P." was going by the name "Hektik". Never the less, the name changes did not affect the way the group sounded and performed together. "Homebound" actually sold quite well. The trio had produced over 200 copies from their independent record label "Retro Horror Muzik" and the copies quickly went thanks to their constant promotion of the album. The artwork for the cover was inspired yet again by a horror film called "Ghost Story".

The House Of Krazees were growing in popularity on the local rap scene. They were slowly becoming underground legends. After they released "Home Bound" in 1994, House Of Krazees made a guest appearance on Evol's solo album entitled "Satanix 4 Life", they appeared on the song called "Satanic 4 Life". People demanded more from the group, and in order to meet these requirements, Mr. Bones released his first solo album, "The Demon Inside" in 1994. It featured a mere 6 tracks, but the album still showed the world the skills James had developed as a rapper. Also during 1994, the group released their third record, "Season Of The Pumpkin". "Season Of The Pumpkin" was a full length LP, it featured over 20 tracks and like all their other releases, the album was produced entirely by Brian Jones aka The R.O.C.

In 1995, the group joined forces with the record label "Latnem Records". The label re-released several of the groups older albums, in order to make them easier to find. The year of 1995 saw the release of a short EP entitled "Outbreed". The cover of the EP was inspired by a popular Sega CD game called "Corpse Killer". This album was not as dark or violent as their other releases, and in fact many songs seemed to be more "hip hop" oriented rather than horrorcore, an example is the track "Weakness". Despite this fact, the EP still sold quite well, and the House Of Krazees was starting to gain a true reputation for themselves, and other groups and record labels were starting to notice them.

Now in the year 1996, House Of Krazees began to work on another full length LP entitled "Head Trauma". In the meantime, Mr. Bones decided to release another solo album, and thus "Sacrafice" was released. It was a little bit longer than "The Demon Inside" and it featured several tracks from his first solo album. It featured fellow HOK members on the track "Insomnia". Also in 1996, The R.O.C. released his first solo album entitled "X-Posed". Both of these releases helped keep fans wanting more from House Of Krazees until they were able to finish "Head Trauma" later that year.

Shortly after the release of "Head Trauma", the trio was asked by Violent J to accompany ICP on tour as an opening act for the group. Hektik, Mr. Bones, and The R.O.C. all agreed, since an opportunity like this would truly help spread the word of their group. However, during the tour problems began to arise and shortly afterwards the trio broke up.

Hektik and Mr. Bones began to work worth former 2 Krazy Devils' member Psycho C, better known as Blaze Ya Dead Homie. Together the three formed a group called "ISI" and they released only a few songs. Their true goal was to gain attention of major record labels and ink a deal. In 1998, their dream finally came true, after they caught the attention of Psychopathic Records. The three were signed to the label. James changed his name to Jamie Madrox, Paul became Monoxide Child, and Chris became Blaze Ya Dead Homie.

During these two years that Hektik and Mr. Bones were away, The R.O.C. was trying to maintain a name for himself in the rap scene as well. In 1997 he gathered a bunch of local rap artists together and formed the group "The Howse" who released their first and only album "Esohpromatem" that same year. Shortly after the record came out, the group disbanded and ceased to exist. Brian then turned to a rap artist who like him was left alone when Chris, Paul, and James left to Psychopathic Records. Brian joined up with "Krazie" from 2 Krazy Devils and together they finished up the final House Of Krazees album that was released on Latnem records in 1998 entitled "The Night They Kame Home". Brian had changed his name to Sol, and Krazie became Skrapz. However, after this album was released, Twiztid began to fight with Sol and Skrapz and Latnem records stating that the two rappers could not release an album using the House Of Krazees name without their permission. The lawsuit ended with Psychopathic Records gaining all rights to everything having to do with "House Of Krazees". Upset about this, Sol and Skrapz left Latnem records and started their own record label, "Virus Independent", and changed their group name to "HaLFBrEEd".

The year was 1998 still and Twiztid had began to work on their debut album entitled "Mostasteless". At the time, Psychopathic Records had a parternship with Def Jam Island to produce and release all their albums for the record label. When Jamie Madrox and Monoxide Child approached Def Jam with their new album, the people in charge of Def Jam were disgusted. The duo had created an album cover that depicted two babies being hung from ropes with a tidal wave behind the dead bodies. Def Jam demanded that they change the cover art, a demand that Twiztid fullfilled. However, despite the duo agreeing to change the album cover, Def Jam still had problems with the content of several of the songs on the album. Def Jam forced the duo to scrap several "offensive" songs and record new ones. Twiztid returned to the studio, and added ICP to several of the new tracks as well. Twiztid showed the newly created "Mostasteless" album to Def Jam once again, and still Def Jam had problems with several lyrics on the album. Rather than scrap these songs as well, Twiztid agreed to allow the record label spin "offensive" portions of the songs in reverse. Examples of these songs include: Diemotherfuckerdie, and Whatthefuck!?! where several portions of the songs are censored. The album was finally approved for release nationally in 1999.

Jamie Madrox and Monoxide Child now went on tour to promote their debut album. The tour was called the "Rock the Dead" tour, and it really helped Twiztid establish themselves as great new artists, and "Mostasteless" was certified gold. Deciding to test just how popular they had become, James and Paul hit the studio once the tour was over and started to work on a new LP.

While working on their latest LP, "Freek Show", James and Paul wanted to give their fans more stuff to listen to in the meantime. So, they decided to release "Cryptic Collection Volume 1" in 2000. The album contained new and rare songs that Twiztid had created, and it also featured a remix to one of the most popular songs from "Mostasteless", "Whatthefuck!?!". The album also promoted Blaze Ya Dead Homie who was working on his album "Blaze Ya Dead Homie EP", since "Cryptic Collection Volume 1" featured the song "Put It Down" that Blaze had made for his album.

Almost finished with their latest LP, Twiztid had decided to make the album a true horrorcore masterpiece and also reveal their talents outside of rapping. Wanting to make the album as dark as possible, Twiztid began to change their appearance as well in order to fit the dark subject matter of their latest album. Now with white face paint and a hairstyle fans refer to as "warlocks", Twiztid was ready to unleash their latest album, "Freek Show", to the world. It dropped on October 31, 2000, the same exact date that ICP released their Bizaar/Bizzar LPs. "Freek Show" exceeded the group's expectations, and the album was certified gold. The album featured tracks on which James and Paul actually showcased their ability to sing, such as in the remake of The Doors' classic song "People Are Strange". "Freek Show" quickly became a fan favorite, and everyone realized that Twiztid was indeed capable of standing on their own. "We Don't Die" became a Juggalo Anthem everywhere, and "Freek Show" to this day is considered the best album ever released by Psychopathic Records. This was also the last album that the duo would release with Def Jam, since later in 2001 Psychopathic Records broke their partnership with the record label.

The year was now 2002, and ance again, deciding to test this theory, James and Paul hit the studio again. Their goal this time was to create an album that did not bareley featured ICP on any tracks at all, to see if Twiztid was capable of selling records on their own. So, they released "Mirror Mirror", a short EP that didn't even feature a track list anywhere on it. Twiztid decided to not really promote the album much either, in order to truly test how popular they had become. Despite the fact that it did not receive promotion, and did not feature any track list, the album still sold quite well and is referred to by many fans as "Twiztid's best album to date". Following the release of "Mirror Mirror", and now finally free from Def Jam, Twiztid wanted to release an album that contained the tracks Def Jam made them remove from "Mostasteless". So, 2002 saw the release of "Cryptic Collection Volume 2". Besides featuring the scrapped songs, the album also featured some old House Of Krazees material. Later on in 2002, on Halloween, Twiztid released their first "Fright Fest EP" which featured guest appearances from Blaze, ABK, The R.O.C. and Monoxide's brother JD Tha Weedman.

The duo now returned to the studio again. Their goal this time was to make an album "for themselves". They wanted it to feature some of their own personal favorite artists, and they wanted the songs to vary in style in order to represent who they are. The whole purpose of this new album was to show the world who Twiztid really is. However, while working on this album, Monoxide Child was arrested. In order to help show his support for Monoxide Child, Jamie Madrox released a short EP entitled "4 The Fam" while Monoxide was in prison. The EP was given away for free off of Twiztid's official webpage. Once Paul was released, they returned to work on their newest album. The album was hyped like crazy, and several singles were made before the album came out in order to help hype the LP. It was finally released in 2003, and was entitled "The Green Book". The cover reflected the feeling Twiztid was going for, they wanted to "reveal" who they truly are to the world through this album, so the cover featured a picture of the duo with their face paint on, but upon turning the page their face paint is removed. The album featured guest appearances by Tech N9ne, E40, and Layzie Bone from Bone Thugz N Harmony. Around this time, rumors began to circulate that Twiztid was leaving Psychopathic Records in order to start their own label called "Majik Records" and the booklet to "Green Book" also hinted at this since Twiztid was shown holding a sign that said "Majik" on it. Also, since "Green Book" never mentioned the word "Juggalo" even once, people really felt that Twiztid was ready to leave.

Twiztid released a single called "Wrong With Me" later in 2003 as part of their project "Black Majik", but due to the heavy rumors and harsh treatment Twiztid was receiving, the duo scrapped the whole project. They decided to release another "Cryptic Collection" and so "Cryptic Collection Volume 3" was released in 2004. The album featured a remake of Steve Miller's classic "The Joker" as well as a remix of Twiztid's single "Wrong With Me". Also, 2004 saw the release of Monoxide Child's solo album "Chainsmoker". It was an LP that featured guest appearances by Jamie Madrox, Anybody Killa, Esham, and Blaze. The album contained a blend of styles, varying from horrorcore, to hip hop, to rock influenced songs where Monoxide actually sang. The album sold very well and is critically claimed for how good it is.

Now in the year 2005, Twiztid was thinking about doing something new. They wanted to release a double album, two albums at the same time, but with different musical styles on each one. They were also supposed to coincide with each other, and tell a story. "Man's Myth" was released first. The album discussed rumors and legends that man has created throughout the years in order to scare his fellow man. The album confronted these urban legends and political lies and referred to them all as myths that man had made up in order to control people with fear. "Mutant", the second album, expanded on where "Man's Myth" had left off. It stated that by following "Man's Myths" we change into "Mutants" and lose control of who we really are. "Man's Myth" featured over 12 tracks, all of which maintained a horrorcore rap style throughout each song. "Mutant" was more rock oriented, and the majority of the album featured rock influenced/sounding tracks. Both albums dropped during the summer of 2005 and both sold rather well. Upon purchasing the album, one would find an insert that hyped a new group and a new album that was to be released on Psychopathic Records. The group was called "Samhein Witch Killaz" and the members were listed as "Hektik", "Mr. Bones", and "The R.O.C." and their debut album was to be called "Bloodletting". On Halloween of 2005, Twiztid released their second "Fright Fest EP", which featured guest appearances from: Prozak, Tech N9ne, Big Krizz Kaliko and The R.O.C.

This brings us to the year 2006. In 2006, Jamie Madrox dropped his first solo album since his days where he was known as Mr. Bones. The album was entitled "Phatso", and it dropped on May 16, 2006. It featured 14 tracks, all excellent, and all showcased his rhyming abilities. Due to the high demand and sales of the album, Madrox decided to create a remix version of the album called "Phatso: The Earth 2 Version". This album was given out for free at Twiztid's "Guillotine Tour". It was also available for purchase on Hatchetgear.com for a short time, and with a limit of one per customer due to the small amount of prints.

Halloween of 2006 saw the release of "Cryptic Collection Volume 4: Halloween Edition". The album was given away at Hallowicked in Detroit, Michigan. It was a short EP, but the main highlight of the album was that there were two tracks that were labeled as being created by the group "Samhein Witch Killaz". The interesting thing about these two tracks was that they both featured not only The R.O.C. but they also had Blaze Ya Dead Homie on them too. This made many people believe that Blaze had been added to the SWK roster.

Twiztid decided to make a new album for the year 2007, an album dedicated to the underground and all the great indpendent artists of the rap game. The album was called "Independent's Day" since each track was supposed to feature a guest appearance from an underground independent rap artist/group. Guest artists who actually made it onto the album include: Tech N9ne, Potluck, Big Krizz Kaliko, Dogg Pound Gangstas, Dayton Family, The R.O.C., Blaze, ICP, DJ Clay, DJ Quik, Hed PE, and Bizarre and Proof from D12. The album also dropped on July 3,2007, one day before the nation celebrates "Independence Day". In honor of this, the cover art of the album featured a "zombie version" of Uncle Sam that also glows in the dark. The album cover was so welly designed that it was even mentioned on MTV!
---