Lo Key
---
---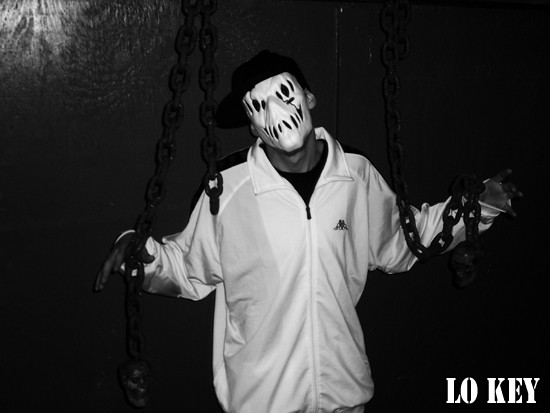 ---
Lo Key began his musical career in 1998 performing with the hardcore rap group from Pennsylvania called "Anonymous Tip". The group's style was more metal oriented, but Lo Key provided rap verses for the group. He remained with the group for two years until Lo Key decided to start recording solo. He wanted to record hip hop songs so he got together a fellow bandmate from "Anonymous Tip" named 100 Proof. Together they only recorded two tracks, "The Truth" and "Bottle Dreams". Both songs were pure hip hop, and Lo Key wanted to play around with his style a little more, and horrorcore was just the style he was looking for! He wanted to start a horrorcore group, and thus "Temple Rain" was created.

The group featured Lo Key, Sleepy and Appirition. Their debut album was entitled "The Awakening" it was a full lenght LP with 19 tracks and was given away for free on the group's official website, something Lo Key is famous for doing. Shortly after it's release, "The Awakening" and all Temple Rain merchandise was banned in Pennsylvania schools for "promoting mass suicide and gang violence". After being temporarily shut down on several occasions, the hype died down and things appeared to return to normal for the trio. Slipping back into the studio the group started they're newest album "The Lost Boys EP" which was released on April 30, 2004.

Later that year Lo Key moved to Nashville, TN to pursue his dreams of making music and to continue his journey through the recording industry. In 2005, Lo Key stepped into new territory when he produced Madd Maxxx's album "In The Absence of Sanity" while working with the legendary Fritz the Cat. In March 2005, 7th Seal Entertainment and Lo Key released a free, 23 track full length LP entitled "Repressed Memories". Consisting of rare, unreleased, and unheard music from the proceeding 4 years, the album was offered free to download off of Lo Key's official website.

In June 2005 Lo Key released his first true solo album, "Follow Me". Yet again, it was available as a free download from Lo Key's official website. It featured 5 tracks, all of which were true to the horrorcore feel. With the release of "Follow Me" Lo Key quickly began to grow more popular. In October 2005 he dropped yet another free album, "The House" criticly acclaimed as "A Horror Masterpeice", "One of the BEST Horror CD's EVER!", and "The Crowning of a New King of Horrorcore". "The House" quickly put Lo Key on top of the horrorcore genre and within a week of downloads, it had reached over 500 GB of downloads! The album featured production by Stitch Mouth, Relapze and former Temple Rain member Sleepy. Some tracks were even self produced by Lo Key himself.

After the release of this album, Lo Key decided to do a more hip hop based album, and "Jack Yo Beatz" was released. It was an album that featured Lo Key doing more hip hop oriented of a style, but all recorded over other artists' beats. It was given for free off of his website, yet again, so no copyright laws were violated from the album sicne he wasn't selling it. A few months after the release of "Jack Yo Beatz Volume 1" was released, Lo Key released his first full length LP, "So-Lo", followed by another "Jack Yo Beatz Album".

A few months later, Lo Key decided to hit up the studio again, and this marked the release to his follow up to "The House". The sequel was just as bloody and violent as the original, and many declared it as an instant classic. In 2006 Lo Key teamed up with a few other MCs and formed the group "Infect". The group released a somewhat "bootleg" mixtape called "Mass Infection". Following the success of this album, the "Infect" decided to hit up the studio again and release an official debut album for the group. Together they released "Chemical Threats Vol 1 and 2" which where available as free downloads from Lo Key's site. The album featured remixes to other artists' songs, including "My World" by Tech N9ne. Today Lo Key continues to release great hits and prove why he's one of the greatest horrorcore artists of all time.
---