Insane Clown Posse History

---

Get this video and more at MySpace.com

---

Name: Joe Bruce
Birthday: April 28th, 1972
Height: 6'2"
Weight: 220 lbs
Eye Color: Green
Hair Color: Originally red but usually it's blonde
Race: Caucasian
Aliases: Violent J, Joe Breezy, Bullet, The Juggla, Wizard of the Hood, Mr. Diamond, Multi Villionaire
More Info: Violent J is the one who came up with the idea of the Dark Carnival as a way to allow those in the ghetto a way to escape from being shunned by society. The Dark Carnival was J's idea of a way to find a place where everyone can fit in, whether you listen to ICP or not.

---

Name: Joey Utsler
Birthday: October 13th, 1975
Height: 6'0"
Weight: 190 lbs
Eye Color: Blue
Hair Color: Brown
Race: Caucasian
Aliases: Shaggy 2 Dope, Shaggz, Stretch Nutz, The Southwest Strangler, Full Clip, Mr. Club, DJ Murderer, The Joker
More Info: Shaggy is a very talented DJ, he made and produced almost every early song that ICP ever did. Also, many people don't know this, put Shaggy is the one who drew the hatchetman as the logo of Psychopathic Records!

---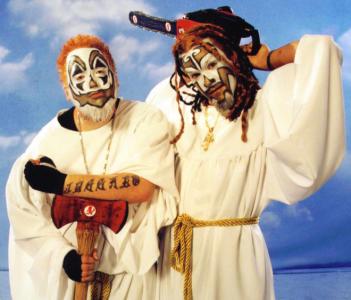 Whether you call them Inner City Posse, Insane Clown Posse, ICP, Dark Lotus, Psychopathic Rydas, Soopa Villainz, or each artist separately such as Violent J and Shaggy 2 Dope, if you know these rap artists you know what draws people in. The content of ICP is different from every other rap group on the planet and they feed off of this in order to become even more popular as the years progress. ICP does not talk about all of the ideas that plague what ICP and all real rap fans call "commercial rap". Commercial rap is fake and consists of artists such as 50 Cent, Juvenille, Lil Wayne, Lloyd Banks, The Game, Dr. Dre, Fat Joe, Nelly, and everybody else that can be seen on TV or heard on the radio. All commercial rappers only talk about the same stuff over and over again, topics such as shooting someone, the expensive cars they drive, the girls they have, all of their cash and jewelry, and other nonsense that we have all heard one too many times. "But for everyone here I can promise you this, You'll never hear us rap about the typical bullshit, Woman, All the money they got, All the ice they wear and all the people they shot, All the freaks they pull and all the cars they drive, Only we'd rap about fucking a beehive" quote from Violent J off of "Take Me Away". ICP speaks of being outcasts, growing up poor, and thoughts of turning into inanimate objects. ICP has a large variety of topics that contain so much originality that it simply draws people into their style. ICP does not speak of drugs, or alcohol, or sex or any typical rap topics, and this is what makes them unique and possibly the best rap group of all time. Their fans are devoted and understand that true rappers do not need to brag about all the money they have and thus the ICP saga will only grow.

ICP is a rap group that is not popularly known since they almost never receive radio play. They are considered true rappers by their fans since they are still underground and don't need all the added publicity of the radio to sell their music. ICP calls their fans "juggalos", and no I am not just mispronouncing gigolo. Juggalo is a change in pronunciation of the word juggler because that is what one of the members calls himself. ICP were two white kids who grew up in Detroit, but problems at home forced them to move into their friend Rudy's home in Delray. Rudy's neighborhood was a bad neighborhood filled with poverty and gangs. There they started to become thugs since many of the people around that area were thugs and gangsters. They were seen as outsiders by everyone else since they were white and were constantly getting beat up. Later they formed their own gang which consisted of them, Rudy, Rob Bruce, and John Utsler. They called their gang the Inner City Posse. Then three members of this gang Joe Bruce, Joey Utsler, and John Utsler started making rap music under the name of their gang. They would perform their music at clubs but always got beat up afterwards. After they started performing in clubs they recorded their first CD, "Dog Beats" to try and earn some respect. This CD was recorded in Alex Abiss' basement since they didn't have enough money to go to a recording studio. Later Alex Abiss became their manager. ICP was still always getting beat up even after their first CD so they started using wrestling to take out their anger on others. They started to get really good at wrestling so they invented their own moves. Their interest in wrestling eventually lead to them appearing in the WWF as wrestlers in 2000 which I'll get to later. As for their music in 1991 Joe Bruce AKA Violent J had a dream of a carnival and clowns and six powerful beings which told stories for people to change their lives before it's too late. He quickly told the other two members of ICP, Joey Utsler AKA Shaggy 2 Dope, and John Utsler AKA John Kickazz, of what he had seen in his dream. Thus ICP was changed to Insane Clown Posse, they began to paint their faces like clowns and the Dark Carnival was born. They wanted to spread word of the Dark Carnival so they began recording more songs under their new name and started their own record company lead by Alex Abiss called Psychopathic records which still ran out of Alex's basement. They wanted to make six "joker's cards" to represent the six stories that Violent J had dreamed of. They began recording songs for the first joker's card that they called Carnival of Carnage. For this CD they gathered guest stars such as Kid Rock and Esham who influenced their unique rap style. Later Esham becomes a member of their record label ten years later. Shaggy 2 Dope drew the joker's card and the emblem that would later be known to the world as the Hatchetman. After recording this CD they started to promote it by handing out flyers and since they didn't have enough money to run copies they had to make each flyer by hand. This was a very tedious task and forced the third member John Utsler AKA John Kickazz to leave the group. John was replaced by Greez-ee on the album "Beverly Killz 50187" but he was later dropped. They began to get a lot of purchases for their CD due to its original content and again were called to clubs to perform. They would spray the crowd with Faygo, a discount soda pop, since they were too young to buy alcohol. At this time is where Violent J invented the word juggalo and since then they have referred to their fans as this.

Their next joker's card was called the Ringmaster and it was released in 1994. It sold over 100,000 copies just within Michigan. At this time Shaggy 2 Dope raised their success by releasing a solo CD. They finished the year by putting on a spectacular show in Detroit for Halloween known as Hallowicked which is still a tradition for them now. They have been searching for a major label to sign with so that they can go national and it was at this time that Jive gave them a contract to promote their next joker's card the Riddle Box in 1995. At first it seemed good except Jive didn't promote the album at all it was still only released in Michigan. This got ICP very mad, so them along with Billy Bill, their tour manager, decided to promote the CD themselves by driving to a random city which ended up being Dallas, Texas. They handed out flyers to promote their CD there and Dallas stores started selling the Riddle Box, which sold 1,500 copies a week. This showed that they have the ability to go national, but Jive didn't care. When they returned from Dallas they made a deal with Hollywood Records since Jive didn't care about them. Hollywood records promised them that they would go national. They even got psychopathic records a real office instead of working out of Alex's basement. ICP was called to Los Angeles to start working on the next CD which they entitled the Great Milenko. They were recording in an actual studio for the first time in their lives. Things started looking bad because Hollywood records was run by Disney and they didn't like the content of their music. They asked them to change a few things in their songs and ICP reluctantly did so. Now they went on tour to promote it with the House of Krazees. Their CD was released nationally along with all the other past joker's cards in 1997. They found out that Hollywood records stopped giving their record to stores and they even dropped ICP from the label. So they started meeting with other record labels for national promotion. They began talking to Def Jam Island and under Def Jam Island the Great Milenko sold a million and a half copies and was certified platinum. This is still their number one CD to this day.

With Def Jam Island they recorded a documentary called Shockumentary which was aired on MTV and it helped boost album sales. They went on tour with the House of Krazees again but the House of Krazees had broken up and left two members behind. These two members signed with Psychopathic records and they are known as Jamie Madrox and Monoxide Child who form the group called Twiztid. Now they have someone else to help promote their CD. ICP along with Twiztid went to Europe to start promoting their CDs so that they would be international. The pressure made Violent J have panic attacks while on stage and he started to freeze up in front of the crowd. His brother Jumpsteady had to carry him offstage. At this time was when WWF realized not only their music skills but their wrestling skills and invited them along with their childhood friend Rudy AKA Rudeboy to perform in the WWF. This helped them establish even more fans. They started their own wrestling league known as JCW. Since they were on Def Jam for this CD they got huge guest stars such as ODB from the Wu Tang Clan and Snoop Dogg which really boosted their album sales. Thus the fifth joker's card the Amazing Jeckel Brothers was born. At this time they were getting so big that even Howard Stern had them come onto his show. They started traveling nationally performing what they call the Gathering of the Juggalos which they took stars such as Bone Thugs N' Harmony, ODB, Vanilla Ice, and Snoop Dogg with them. More artists started wanting to sign with Psychopathic so they picked up Blaze ya Dead Homie and the group called Krazy Klan which consists of Lavel and ABK formerly known as Native Funck. ICP along with Twiztid, Blaze, and ABK at this time formed a super group they called Dark Lotus.

ICP decided that Def Jam's way was too commercial so they became independent again and signed a deal with Sony to produce their records. Sony agreed to only produce their CDs for them and leave Psychopathic completely independent which is what they wanted. Now they needed inspiration for the sixth and final joker's card. They went into hiding for three years to prepare to release the last joker's card.

The sixth joker's card entitled the Wraith consisted of two parts which showed the listeners the two paths after death. The first part was Shangri-La which spoke of Heaven the paradise. They revealed a lot of secrets during this CD and had religious content which was unusual for them. They pointed out that the whole time the Dark Carnival was all about God and that all juggalos will find God.

The next CD talked about the alternate side after death, the flames and Hell. They released the CD with a 3-D music video known as Bowling Balls and they hold the record for releasing the first 3-D music video. They went on tour with Mack 10 from the Westside Connection which consists of WC and Ice Cube, but now the Dark Carnival had ended so it was a time for a calm which lead to their next CD.

Their next CD had eight tracks and it was more laid-back then the Dark Carnival. They say the calm will end when they re-unite with Mike E. Clark, a very skilled guitarist who helped them with a lot of their music from the Riddle Box on, for their new CD the Tempest. ICP's success also is from all the many groups that they are in such as Dark Lotus, which I already mentioned, Psychopathic Rydas, which consists of ICP, Twiztid, Blaze, and Myzery, and the Soopa Villianz, which is ICP, Lavel, and Esham. Each member has also done well with their solo CDs and Violent J's, "The Wizard of the Hood", has some of their best collaborations.

In 1991 they released their first CD, Dog Beats, followed by the Carnival of Carnage in 1992. In 1993 Beverly Kills was released and this was the last CD where ICP had three members. In 1994 the Ringmaster was released along with the Terror Wheel and Carnival Christmas in the same year and Shaggy's solo CD. Their next CD in 1995 was the Riddle Box. Come 1996 they released the Tunnel of Love. In 1997 they released the Mutilation Mix and the Great Milenko. In 1998 they released Forgotten Freshness Volumes 1 and 2. In 1999 they released the Amazing Jeckel Brothers which had two different cover pictures. In 2000 they released two versions of the CD called Bizzar, one was spelled with two z's and the other with two a's and they both had entirely different tracks. 2001 was the release of Violent J's solo CD along with Forgotten Freshness volume 3. 2002 was the Wraith: Shangri-La. In 2004 was part two of the Wraith and in 2005 their CD the Calm was released. They were also featured in two video games Backyard Wrestling and Backyard Wrestling 2.

Throughout their career they have encountered numerous feuds. Many from fellow recording artists such as: Eminem, Dr. Dre, and Marz. Several other artist have dissed ICP but a beef has never truly developed from these disses. The EminEm beef is a long one, and here's the summary of it:

Before EminEm was who he is today, the nationally known superstar, he was a nobody white kid growing up in Detroit's 8 Mile area while ICP was pushing out Carnival of Carnage and other early CDs without any help from record label companies in any form. EminEm lived a hard life with a drug addicted mother and abusive family, and turned to rap music to release his inner feelings. In 1998 after recording a demo and submitting it to Dr. Dre, he became known as a national star and was invited onto Howard Stern's radio show. Howard Stern asked EminEm how it felt to be from a city that raised up so many other rap stars: Esham, NATAS, Kid Rock, and ICP. EminEm said it was great to be from the same city as all of them except ICP, he said ICP was a group of pussies that he used to beat up back in the day. He claimed that one time he kicked them out of a club in Detroit after one of their shows. To test the accuracy of what EminEm had stated, Howard Stern decided to invite ICP onto the show the next night. ICP said that they didn't know EminEm, that they have never been chased out of a club by him. ICP immediately turned to Jamie Madrox for assistance on a diss song that Violent J had planned out. Knowning that Jamie Madrox is a master of voices, Violent J decided that Jamie should rap to EminEm's "My Name Is" but change the lyrics and call the song "Slim Anus". EminEm responded back on his "Marshall Mathers LP" with a skit having Shaggy and J giving oral sex to Ken Kaniff and dissing them throughout all of the song "Marshall Mathers" calling ICP females, and queers who spray faygo rootbeer.

Around 2002, EminEm was taken into custody for pulling a weapon on Dougie from Psychopathic Records, but was later released because the gun was empty. To get back at EminEm for this, ICP recorded "Aint Nothin But a Bitch Thang" and dissed EminEm for pulling a gun that wasn't even loaded. The song also called out his daughter, his mother, and his wife. They even refer to when EminEm was just getting started how he through a CD release party and had a list of stars that would be there, one name was Insane Clown Posse. It is very appearant that EminEm did recieve an influence from ICP because throughout his "Slim Shady LP" you hear many references to ICP stuff: "From the day I was born my momma loss me, I'm like a cross between Manson, Esham and Ozzy" (from Still Don't Give A Fuck), "Nice to meetcha, I'd like to treat you to a Faygo and a slice of Pizza" (from As the World Turns), "I tie a rope around my penis and jump from trees" (from Role Model), and many others. I refer to EminEm's old shit as horrorcore due to the way that he was rapping in a style that resembled that of Natas, ICP, and HOK. This beef continued for quite some time until Twiztid finally put an end to it in 2006 by doing a song with Bizarre and Proof from D-12. A couple of months later, on April 11, Proof (Deshaun Holton) was gunned down in Detroit and was killed. Twiztid put up a page dedicated to the death of Proof and sent out their sympathy to his friends and family members.

Besides their beef with EminEm, ICP has been attacked on several occasions. Exmaples of other artists who have dissed ICP include: Necro, Esham, Lavel and Q Strange. ICP has also encountered countless amounts of disses from the media. Many magazines have voted them the "Worst Band Ever" out of a list that contained 50 artists. These articles never really claim that ICP isn't talented, instead they bash Violent J and Shaggy because they are two white guys painted like clowns producing very violent songs. I guess these magazines have never heard anything by any other horrorcore artists then, because that's the way horrorcore is!

ICP has been around for a long time, though some may not know it, and have faced many difficulties but they have made it through. Psychopathic records has gotten so big that there are even action figures of Twiztid and ICP along with bobble-heads. They also have comic books, clothes, jewelry, car decals, and hats. ICP is a group that doesn't need to be commercially promoted to sell; their content is so original that it sells itself. Their fans are so devoted to them that they paint their faces like them for concerts, get tattoos of the joker's cards, put the hatchetman on the cars, and buy their action figures. ICP has made a name for themselves in the hearts of their fans as the best rappers of all time.

---