HaLFBrEEd

---
---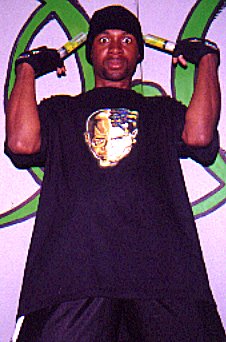 Name: Brian Jones
Eye Color: Brown
Hair Color: Black
Race: African American
Aliases: Raps On Contact, The R.O.C., Sol, Sol46
---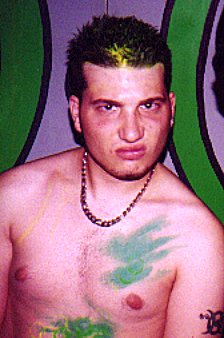 Name: Charles Christie
Birthday: May 26, 1978
Eye Color: Brown
Hair Color: Brown but sometimes blonde or green
Race: Caucasian
Aliases: Krazie, Skrapz, Chuck
---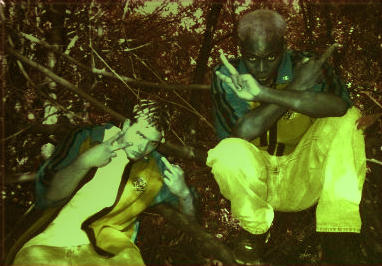 Ah yes, HaLFBrEEd. Where do I begin. Let me start by saying that HaLFBrEEd is the shit, and anyone who hasn't heard of them or hasn't purchased or heard anything by them is really missing out on something great. HaLFBrEEd is a notorious horrorcore group based out of Detroit that features two very old school yet hardcore rappers. Now when I say old school I mean that they've been around for a long time. HaLFBrEEd was formed by two rappers based out of other horrorcore groups that are more commonly known. The first member is Skrapz or as many know him, Krazie, from the old group 2 Krazy Devils which consisted of Krazie and Psycho C (Blaze). The other member was Brian Jones aka Sol46, or the R.O.C., from House of Krazees.

The R.O.C. had helped produce the album "Flipped Insanity", the only album released by 2 Krazy Devils. Shortly after the release of this album, The R.O.C. released his first solo album ever, "X-Posed". The album received almost no promotion yet still managed to sell enough copies to help Brian continue to make more albums. Shortly after this album was released, Mr. Bones (Jamie Madrox) released his second solo album "Sacrafice". In 1996, shortly after these two solo albums were released, House of Krazees was asked to go on tour with Insane Clown Posse. While touring with ICP, problems arose between the members of HOK, and the group disbanded.

The R.O.C. decided to continue to pursue rap despite the fact that he had lost not only two bandmates, but two best friends. He scouted Detroit and put together another horrorcore group that he named "The Howse". The group only released one album "Esohpromatem", whiched dropped in 1997. Shortly after the release of this album, the group completely disbanded. Unsastified by this, Brian Jones continued to seek young talent that he could work with and form a great group with, and that's when he remembered the young man named "Krazie" from 2 Krazy Devils.

Since the House of Krazees break up in 1996, Hektic and Mr. Bones were working on a deal with Psychopathic Records, but were recording songs together with Psycho C from the 2 Krazy Devils, under the group name of ISI. Once the deal went through, Twiztid and Blaze joined the Psychopathic Records line up in late 1998. Krazie hadn't been done anything during these three years, in terms of music, and it was around the same time that Twiztid and Blaze inked a deal with Psychopathic that The R.O.C. approached Krazie with the offer to join him in reviving the House of Krazees.

Krazie agreed and changed his name to "Skrapz". The R.O.C. changed his name to Sol, and together they worked on finishing an HOK album entitled "The Night They Kame Home". The album was released in 1998 under the name "House Of Krazees". It featured a mere nine tracks, one of which contained The R.O.C's verse to the critically acclaimed Twiztid song "Murder Murder Murder".

After this album was released, problems arose between Twiztid and The R.O.C. The problem was that Twiztid claimed that The R.O.C. did not have the right to use the House Of Krazees' name and a lawsuit broke out between the parties. After all this was resolved, The R.O.C. decided to change the name of the group he had recently formed with Skrapz, and thus HaLFBrEEd was born.

Sol and Skrapz formed their own record label, "Virus Independent" and their group HaLFBrEEd was the headliner for the record label. Other major groups/artists that they signed to Virus included: Bedlam, F.R.EEZE, and Y.U.G. After forming their own record label, they began to work on their debut CD while using the name HaLFBrEEd, "Serial Killaz". "Serial Killaz" was an EP that contained a mere eight tracks, all of which were fantastic and was released on October 10, 2000. Their plan was to create a dark album just in time for Halloween, and it was an instant success. Many people call "Serial Killaz" the best Horrorcore album ever released.

The follow up to this CD was an LP called "KontamiNATION". "KontamiNATION" was released on December 26, 2000 and featured 21 banging tracks from the killer duo. On October 31 2000, HaLFBrEEd released their last EP "Rage of the Plague" which featured eight tracks, two of which included members of the future group known as Level Jumpers. After the release of this CD, Skrapz and Sol joined forces with F.R.EEZE and together the trio formed "Level Jumpers". Level Jumpers was not a horrorcore group, instead they were a traditional rap group.

Level Jumpers began to work on their debut CD, "Simply Complx". The entire album was produced by Sol46, and it contained a very mellow, easy listening rhythm throughout the entire album. The tracks were filled with very positive lyrics, a huge change from the days of HaLFBrEEd, yet it still sold incredibly well. The album was praised for its "relaxing" beats and lyrics, and Skrapz and F.R.EEZE dominate the beats with smooth, positive words. The group called their new style of rap "Purified Hip Hop". However, people were wondering if Sol and Skrapz would ever release another HaLFBrEEd album, or if the group had officialy ceased to exist.

A bootleg album entitled "Killaz of the World" began to surface on the internet. It featured unreleased HaLFBrEEd tracks, but in an extremely bad quality, so most people could not understand the songs at all. Once Sol and Skrapz got word about this, they decided it was time to officialy put an end to the group. They hit the studio and listened to all their old HaLFBrEEd material, and they also recorded some brand new stuff as well. It also contained the songs that were being bootlegged on the internet on the "Killaz of the World" album, but they were professionally mastered. The album was called "The End" since it officialy put an end to the legendary group once known as HaLFBrEEd. It featured all of their greatest songs ever recorded, remixes to old songs, and fresh new ones as well. It was dropped on October 29, 2002, just in time for Halloween.

With HaLFBrEEd officialy dead, Sol and Skrapz could focus on their new group Level Jumpers once again, and so they hit the studio to release their new album "The Red Pyramid", and was released in 2002. It was a much longer album than their first one, and Sol made more appearances as a vocalist on the album as well. Yet again, it reached a very high amount of sales. However, Sol had begun to tour with Twiztid once again, and he quickly decided to leave the group in pursuit of a solo career.

The first album he released was still while using the name Sol46, and it still featured a style similiar to Level Jumpers. It was a short EP that came out in 2002 entitled "Wormholes". It not only showed the skills Sol has as an artist, but also as a producer, since the last track on the EP was a pure instrumental.

After the release of "Wormholes", Sol46 changed his name back to The R.O.C. and he released a mixtape entitled "Bits and Pieces Volume 1". The album contained ten of The R.O.C.'s favorite tracks from throughout his career. It was also the only album were you can actually find the song "Murder Murder Murder" in its original form, with all three members of House Of Krazees doing their verses, rather than the versions Twiztid had been releasing without The R.O.C. on it.

The year was now 2005 and The R.O.C. was almost done with his first solo full length LP since "X-Posed" in 1996. In order to hype everyone up for the album, he released a short EP entitled "I'm Here". The sole purpose of this EP was to give people a glimpse at what his next album was going to be like.

In the meantime, Skrapz had been working solo as well, working on his first solo album ever. He had been working on the album since 2003, shortly after the break up of Level Jumpers. Wanting to stay true to the the feeling of "Purified Hip Hop", Skrapz wanted his solo to be filled with positive rhymes. He called the album "The 12 Step Program" and it was finally released on August 23, 2005. The album sold more copies than what Skrapz was expecting, and he went back to the studio to work on another solo album.

Now in 2006, The R.O.C. was finished with his long awaited album that he had been hyping, "Oh Hell No!". The album featured over 15 tracks, all varying in style. Some songs had a more horrorcore feel to them, while others still mainted that "Purified" feel. It was a success. Following the success of this album, The R.O.C. yet again went on tour with Twiztid, and he was even asked to rejoin them and form a group called "The Samhein Witch Killaz". In 2005 the trio released a special track which was a remix to the old House of Krazees song "Nosferatu" in honor of their future release "Bloodletting the Album".

The R.O.C. has been on tour with both Twiztid and Blaze, and he has been seen sporting the hatchetman as well. Him and Blaze have been stated to release a CD together under the name "Zodiac MPrint" and people are still waiting for the "Samhein Witch Killaz" to drop their album. Skrapz continues to create "Purified Hip Hop" because he says that he's being true to himself by creating that kind of music, and he continues to gain more fans all the time. HaLFBrEEd was one of the greatest horrorcore groups there ever will be, and even though they are gone, they still have found their place amongst the greatest of all time. In fact, they are considered legendary by many!
---