Info On Different Psychopathic Artists Past and Present

---
---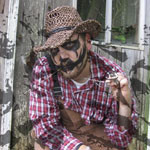 Name: Boondox
Race: Caucasian
Aliases: Turn Coat Dirty, Yung Dirt
More Info: Boondox was signed to Psychopathic Records in early 2006, a couple of months after AMB recieved a record deal. Since the loss of ABK, Lavel, and Esham had occured, Psychopathic was in desperate need of more rap artists. The Underground Pscyhos contest had given them two new artists, but the lack of a major response to AMB's music lead the representatives of Psychopathic Records on a search for another artist that could possibly assist the record label in this time of need. The artist that was discovered was a man from the southern town of Covington, Georgia. Psychopathic refused to let any information on the artist leak out until the Gathering of the Juggalos grew closer. On May 22, 2006, Psychopathic was ready to unveil their newist member. Dressed like a scarecrow, and repping the south, Boondox the Skarcrow released his first hit single to download for free off his website. The song was entitled "They Pray With Snakes" and it took on a new style of horrorcore that many haven't seen before. The style of the south was present, along with the violence that horrorcore embodies were both combined into a unique blend that many Juggalos were able to feel instantly. Twiztid was a little worried about having a new member added to the Family that they didn't know a single thing about, but after spending some hours talking and smoking with Boondox both members said that they will get along just fine with Boondox. Violent J said that the reason he went ahead and signed Boondox is because "What makes Boondox automatically so different from the rest of the Fam, is that he's not from the blocks, he's from the crops... He's not from the streets but from the fields. Boondox is to music what 'Texas Chainsaw Massacre', 'The Hills Have Eyes', 'The Devils Rejects' and 'Wrong Turn' are to movies. That back woods, country, crazy, hillbilly shit is straight up scary!" He was a well known underground rapper in his hometown of Covington. He started off as a member of the southern horrorcore group known as "Souther Hustlas Inc" aka "S.H.I." and he used the name "Turncoat Dirty". S.H.I. consists of three members: Produk, Smokey, and Turncoat Dirty. As a member of S.H.I. he released many underground hits, and his success as a member of the group is very well known. He entered the Underground Psycho contest as a solo member and sporting the name Turncoat Dirty but was eliminated very early in the contest. Despite his loss however, he continued to work hard on his music. His debut album "The Harvest" dropped at the Gathering of the Juggalos 2006, along with his first performance in front of the Family. In 2007, Boondox released his second Psychopathic album, an EP entitled "PunkinHed". It was acclaimed as a "true horrorcore" CD and it helped more people realize that Boondox was indeed a great addition to Psychopathic Records. Following the success of this new release, Boondox was invited onto the Psychopathic Rydas roster by Violent J. Boondox sported the name "Yung Dirt" and was featured on the Psychopathic Rydas 2007 LP "Duk Da Fuk Down".
---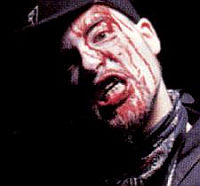 Name: Chris Rouleau
Birthday: April 27, 1974
Height: 6'6"
Weight: 220 lbs
Eye Color: Brown
Hair Color: Brown
Race: Caucasian
Aliases: Blaze Ya Dead Homie, Cell Block, Big C, Colton Grundy, Blaze, Psycho C, Sandman
More Info: Blaze is a hardcore horrorcore artist from Detroit. He started off as a member of the rap group "2 Krazy Devils" which consisted of Pscyho C (Blaze) and Krazie (Skrapz of HaLFBrEEd). This rap group is known for their early collobaritions with House of Krazees members' Mr. Bones, R.O.C., and Hektik. 2 Krazy Devils had difficulties gaining a true reputation amongst people and had to be dismantled. As a result, the rap group "The Sleepwalkaz" was formed. This group had just as much difficulty as 2 Krazy Devils did and after a while the group broke up. Krazie went on to work with the R.O.C. while Psycho C worked with former House of Krazees members Jamie Madrox (Mr. Bones) and Hektik (Monoxide Child). The three began their own rap group known as ISI. Violent J heard some of ISI's music and invited Jamie Madrox and Monoxide Child to sign with Psychopathic Records, thus forming the rap group "Twiztid". Blaze decided to work alone and attempt to gain a name in the underground rap scene. Eventually Jamie Madrox was able to work out a deal with Psychopathic Records to get Blaze signed to the record label. Upon recieving the offer, Blaze accepted without hesitation. Blaze then recorded his first LP which was self entitled. Due to its short length of a playlist however, many still demanded more out of Blaze. So he went on to record his follow up LP entitled "1 Less G in Da Hood". Juggalos began feeling Blaze's shit and the demand for Blaze Ya Dead Homie increased. In 2000 in an attempt to meet the demand, Violent J decided to add Blaze to the roster of Dark Lotus even though the group was supposed to contain only ICP and Twiztid. Blaze was also signed as a member of the gangsta group "Psychopathic Rydas" sporting the name "Cell Block". Blaze left Psychopathic Records in 2003 after retiring from the rap game. He later returned in 2004 stating "I could not stay away from rapping, I missed the Family too much." He went on to record his next CD "Colton Grundy Tha Undying". In 2005 Blaze and ABK teamed up to create Drive By and released their first CD "Pony Down". Blaze got his name from a joke that he was once shot and killed on Halloween and is now a zombie doomed to roam the earth for all eternity. Blaze continues to create great music that many love, and he has earned a place amongst Juggalos everywhere.
---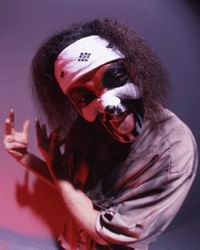 Name: James Lowery
Birthday: June 26th, 1973
Height: 6'2"
Weight: 205 lbs
Eye Color: Brown
Hair Color: Brown
Race: Native American, he belongs to the Lumbee tribe
Aliases: Anybody Killa, ABK, Sawed Off, J-Mo, Jay Mo, Native Funk, Hatchet Warrior
More Info: A very talented artist that completes the Psychopathic Family! Featured in both super groups just like Blaze, ABK adds even more flavor with his dark lyrics that he constantly pumps out. In 1995, Jaymo (ABK) and Jayho (Lavel) started the underground rap group known as Krazy Klan and released their first tape entitled "Frustrationz." Mr. Bones (Jamie Madrox of Twiztid) from House of Krazees helped with the cover art of this album. In 1999, Krazy Klan released a CD entitled "developMENTAL." This, as opposed to "Frustrationz," was only released on CD. Krazy Klan was currently signed to Slang Town records, so they received almost no promotion on behalf of the company. In the year 2000 Krazy Klan broke up. Jayho took the alias of Lavel and went independent, as did Jaymo. Jaymo changed his name to Native Funk and released a CD that year entitled "Rain From the Sun." Special guests such as Dead Mike from Slang Town, Jeremy Methric (Monoxide Child's brother), and Halfbreed. After the release of "Rain From the Sun", Jaymo met up with Blaze Ya Dead Homie. Jaymo changed his name once again taking up the alias of Anybody Killa, and began touring with ICP and Twiztid in 2001. In 2002, upon finally being signed to Psychopathic Records, ABK was said to be in the Dark Lotus line up in replace of Marz. This began ABK's career as he began to receive the promotion that was lacking in the past years with Slang Town Records. ABK quickly became popular amongst Juggalos and Juggalettes everywhere, and the demand for a CD was rather high, but it would be almost another year before anything would be released. ABK assisted Blaze during his production of 1 Less G in Da Hood. Later that year, Anybody Killa was featured in a Christmas song with ICP called "Santa Claws" which was available for download off of the ICP website. In early 2002, Blaze and Anybody Killa recorded a song called "Foo-Dang." With the release of this, a release date for ABK's debut LP, "Hatchet Warrior" was set for May 7th, 2002. In 2002 ABK was signed to Psychopathic Rydas using the name Sawed Off and replacing Twin Gats. ABK left Psychopathic Records in 2006 and released a mixtape along with Lavel and Esham entitled "Diamond Cutz" where the three rappers openly diss Insane Clown Posse and Twiztid. Later a treaty was made between Psychopathic Records and ABK, Lavel, and Esham. Both parties agreed to end the beef.

---
Name: Zug Izland
Members: Syn, Mike P., Little Pig, Dan Miller, and B. Nester Hendricks
More Info: Zug Izland is the result of a little rock project that Violent J had been contimplating for quite some time. Violent J met with Mike Puwal and the two of them began to discuss possibilities for a strictly rock only group to sign with Psychopathic Records. First, in order to test Mike Puwal's skills they had him create a few beats for ICP, all of which can be heard on their "Forgotten Freshness Volume 3" CD. At first the line up excluded Syn and instead Violent J was the main the singer of the group. This line up produced a song that many simply refer to as "Violent J Rock Project". After playing around with Violent J as the lead singer for a while, J and Mike P decided to locate someone else for the official singer for Zug Izland, and thus Syn was invited to perform in front of Violent J in order to decide if he was indeed the lead singer that the group lacked. J was blown away by Syn's performance and was quickly added to the Zug Izland roster. The roster quickly became: Ashley Horak aka Li'l' Pig on drums, Guido Milligan on the bass guitar, Mike P on the lead guitar, Dan Miller on the keyboard, and Syn as the lead singer. Although in 2002 Guido Milligan left the band due to a diagnosis of a brain tumor. So Mike P replaced him with B Nester Hendricks aka, B-Nez. In 2003 Zug released their first album entitled "Cracked Tiles" and many Juggalos fell in love with many of the songs that were on the album. All of the lyrics to this CD were written by none other than Violent J himself. He wanted to keep a rock feel that people would enjoy and as a result he put aside the "Violent J" half of himself and wrote the lyrics as Joe Bruce. This CD featured many guest appearances by other Psychopathic artists such as Violent J on "Fire", ICP and Rude Boy on "Small Town", ICP on "Hiroshoma", and ABK, Jamie Madrox, and Blaze Ya Dead Homie on "Synplicity". This CD became an instant hit and many people who had never liked any Psychopathic Records stuff quickly went out and purchased this CD. As a result of the fame that Zug Izland was recieving, Alex Abiss decided to start up Ax and Smash Records which would be devoted entirely to Zug Izland. Zug then released their second CD called "3:33". This CD also got quite a bit of love from those who had felt Zug's earlier songs, but things just weren't working for the group. In 2004 Alex decided to close down Ax and Smash Records and completely drop Zug Izland from all of the Psychopathic Records label. This was an action that all of the members of Zug Izland agreed with since they did not seem to be doing to great as a national rock group as they had expected. The members of Zug Izland still have love for all of the Psychopathic artists even after this separation, in fact it was Mike P of Zug Izland who produced all of ICP's CD "Shangri La" as well as many of the songs on their follow up CD "Hell's Pit". All of the Zug Izland fans out there still carry the name of Zuggalo, and Zug Izland still uses this for their fans. The future of Zug Izland is unclear, but we look foward to seeing more from this Detroit based rock group.

---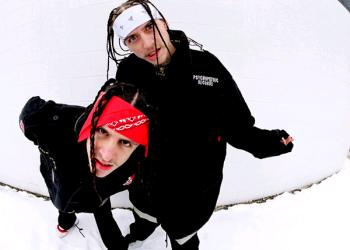 Name: Axe Murder Boyz
Members: Bonez Dubb and Otis
More Info: AMB is comprised of two members, Bonez Dubb & Otis. The Duo originates from Denver, Colorado where they constantly pushed underground releases. They released their first album in 1999 on their own record label. Having forged a path through the underground that lead them to their current status in the music industry, AMB have self produced and promoted 5 commercially sold records. As well as running their own regional tours in support of those records, and releasing samplers, EP's, and exclusive bonus discs along the way. They signed a contract with a then new independent record label, Canonize Records. It was with Canonize Records that they formed a partnership and geared up to release their first national effort, "The Unforgiven Forest". "The Unforgiven Forest" was released and sold better than any previous AMB release, gaining them fans across the united states as well abroad in the U.K. , Australia, and Germany. One of the major key points of "The Unforgiven Forest" was the collaboration that Axe Murder Boyz did with none other than the legendary R.O.C. It was after the success of this record that AMB took a step in their career that no one will soon forget. They Joined the Insane Clown Posse on a 6 date mini tour in late October, and then, devastatingly, AMB signed to Psychopathic Records after winning the "Underground Psychos" contest held in 2005. The duo even performed at the Gathering of the Juggalos later that year. It was at Psychopathic that they began to truly build their career, as well as life long friendships with some of the undergrounds finest. They went into the lotus pod studio with ICP and began creating their second national release and 7th commercially sold album entitled "Blood In, Blood Out". This record was a sweeping variety of songs. With accapella intro and outro tracks, and a bloody red album cover, AMB made this record the way they thought it would be best, regardless of any critic or industry entity's point of view. "Blood In, Blood Out" was released on April 18th, 2006. After the release of "Blood In, Blood Out", AMB started touring with Shaggy 2 dope's "Fuck the Fuck Off" tour. It was on this tour that AMB got a real taste of what the road was like. After the success of that tour, AMB joined Twiztid on their "Guillotine Tour". This tour stretched across the whole nation as well as featured a few dates in the Midwest with the Kottonmouth Kings. Again, AMB refined their set and continued to murder stages every night, again forever grateful for the opportunity Twiztid gave them. Still, AMB didn't see rest as a factor, and quickly made their 2006 touring schedule a three-peat, as they joined Blaze Ya dead Homie on his first ever national "Tombstone Terror Tour". Shortly after all this touring was done, AMB's contract with Psychopathic Records had expired. You see, the original contract deal that AMB recieved for winning the "Underground Psychos" contest stated "1 Album Release on Psychopathic Records, Some Merchandise, Tours, and Promotions". Basically, the winner of the "Underground Psychos" contest was not intended to remain on Psychopathic Records, the deal was more as a means of promotion for the winner and after the promotion is over the group is supposed to leave. This is exactly what happened to AMB, after all the merchandise, promotion, tours, and the album release, their contract had expired and the duo returned to "Canonize Records" in order to keep releasing more albums, but this time their albums sold quicker due to their previous exposure with Psychopathic Records.
---

Name: SoopaVillianz
Members: Violent J (Mr. Diamond), Shaggy 2 Dope (Mr. Club), Lavel (Mr. Heart), and Esham (Mr. Spade)

After years of torturing Juggalos worlwide with clips of what the SoopaVillianz are capable of doing together, the finally released their debut CD in the summer of 2005. After hearing them at the end of the Shangri La song "Aint Yo Bidness" juggalos have been anticipating a CD release from this group and finally their wishes came true! SoopaVillianz is a super rap group formed by ICP, Lavel (from Krazy Klan), and Esham. Together they rap about doing crimes and blowing up the world. Each one has their own super powers: Mr. Diamond is made of diamonds and he cannot be harmed by bullets and he can fly. Mr. Club has razor blades on his discs and he shoots them at people. Mr. Heart has the ability to control women to do whatever he wants. Mr. Spade has a super powered megaphone that he uses to control people's minds. The Soopa Villianz broke up in 2006 after Lavel and Esham not only left Psychopathic Records, but also released a CD that dissed both Violent J and Shaggy 2 Dope. Rumor has it that Esham owns the property to the Soopa Villianz name and that he and Lavel will be releasing a CD under the name Soopa Villianz.

---

Name: Triple Threat
Members: Blaze Ya Dead Homie and Twiztid

Originally the name that ICP used back in the days whenever they were with their old time homie Billy Bill, Triple Threat now resurfaces as a name for a rap group. Their first official song together under the name "Triple Threat" was featured on Twiztid's CD "Mutant". Triple Threat features three very talented artists colaborating together and maybe a debut CD will be released, Juggalos can only hope.

---

Name: Drive By
Members: Blaze Ya Dead Homie and Anybody Killa

Drive By used to rap together long ago and it's great to see them back again! You can always hear either Blaze or ABK screaming Drive By in different songs and now we see them resurface again. What can I say, Juggalos love ABK and Blaze, and when they are together they deliver everytime!

---

Name: SoopaHeroes
Members: Anybody Killa, Esham, and Lavel

This is a little hard and confusing, so bare with me. SoopaHeroes was the name of the rap group that was going to contain Twiztid, Blaze, and AnyBody Killa. Now that ABK has not only left Psychopathic Records but he also began to diss the artists that still remain there, the new line up is rumored to be ABK, Esham, and Lavel. Esham owns the rights to the SoopaVillianz name but decided not to release another CD under this name. Instead he decided to create a new group using the name SoopaHeroes. The CD was said to have been aimed at Violent J, Shaggy 2 Dope, Jamie Madrox, and Monoxide Child, much like "Diamond Cutz". However, after making amends with each other, it is possible that this album will never see the light of day since Esham agreed to a treaty amongst the Psychopathic artists and Juggalos.
---